Short sermon found here.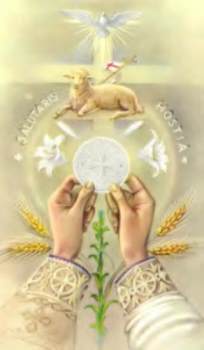 God bless Audio Sancto!
What and who is Audio Sancto?
Audio Sancto is a website created and maintained by Catholic laymen who record and publish sermons by Catholic priests, with the permission of the priests who preach them.
Am I allowed to copy these sermons and pass them along?
Yes, but there are a few conditions:
You may not, under any circumstances, identify the priests preaching these sermons or the location where they are being preached (see the explanation below)
You may not make a financial profit from the copying and/or redistribution of these sermons
You may not edit the audio of the sermons in any way
If you can,

please say three Hail Mary's for the priests

who preach these sermons, and ask others to do the same

Relay these conditions to whomever you give these sermons
Am I allowed to link to AudioSancto.org from my website, a blog, or internet forum?
Linking to a sermon is fine (please link to the sermon details page, not directly to the audio), but you may not mirror (copy the mp3 file and host it from your own web server) the sermon on another website. Either way, you MAY NOT, under any circumstances, identify the priests preaching these sermons or the location where they are being preached (see the explanation below).
Who are the priests giving these sermons?
The priests you hear in the recordings on this website are Catholic Priests, in good standing with their local ordinaries and Rome, incardinated with normal faculties and jurisdiction, and serving in North America.
Okay… so why not just say who the priests are?
Because they have duties and responsibilities as priests to care for the souls of the Faithful entrusted to them. By remaining unidentified, their attention for their flock won't be divided by folks outside of their parish who might seek them out for questions rather than going to their local priests. Moreover, the message they happen to be preaching — the Catholic Faith — is what is important, not the human beings who are preaching it.
Can I load these sermons onto my iPod?
Yes. The best way to load these sermons onto an iPod is to subscribe to the sermons podcast in iTunes (instructions for subscribing to Audio Sancto's podcast in iTunes can be found here). Once you've subscribed to the Audio Sancto podcast in iTunes, your iPod should automatically synchronize with iTunes when it's plugged into your computer.
Are CDs of these sermons available?
Yes. CDs of most of these sermons are available for purchase. The price per CD is about $2 (plus shipping) and there are approximately 75 CDs available (as of May 2008). If you would like to order CDs, send an email to Audio Sancto. Alternatively, you can download the mp3 files from this website and make your own CDs. This is far more economical (and with the money saved you can have Masses said for priests, vocations, the conversion of sinners, and/or to ease the suffering of the Holy Souls in Purgatory). If you're unsure how to make your own CDs, please click here to learn how to use iTunes with Audio Sancto's podcast feeds.
How many sermons are there on Audio Sancto?
Currently there are 442 sermons available for download on Audio Sancto. In the last 90 days there have been 98,415 downloads of sermons. If you were to download all of the sermons which are available on Audio Sancto they would occupy 1.85 GB of space on your hard drive (or iPod).