By Colleen Hammond, in Catholic Church, Sermon | Leave a response Leave a response
Posted in Catholic Church, Sermon | Tagged 2, 2nd, feast, Holy, January, Jesus, name, second, Sermon | Leave a response
By Colleen Hammond, in Meditations | 2 Responses 2 Comments
If you feel you've benefited from these Meditations (written in 1894 and now being reprinted by Valora Media, Inc.), would you mind sharing them with others? And please make sure to subscribe to the email list (below). Thank you!
+++
Meditation for the Morning
Let us adore Our Lord Jesus Christ taking His repasts during His mortal life. He submitted Himself to eat and to drink like the rest of mankind; but in what a holy manner He did it! How He raised the meanness of the action by the beautiful virtues which He practiced in regard to it! It … Read the rest
...read more
Posted in Meditations | Tagged affect, animal, charity, Christ, drink, eat, feed, Grace, Holy, how, humility, Jesus, mankind, salvation, table, truth, virtue | 2 Responses
By Colleen Hammond, | 1 Response 1 Comment
Short sermon found here.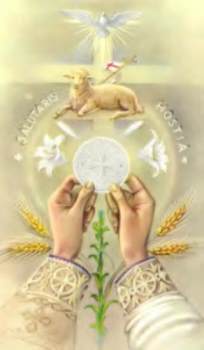 God bless Audio Sancto!
What and who is Audio Sancto?
Audio Sancto is a website created and maintained by Catholic laymen who record and publish sermons by Catholic priests, with the permission of the priests who preach them.
Am I allowed to copy these sermons and pass them along?
Yes, but there are a few conditions:
You may not, under any circumstances, identify the priests preaching these sermons or the location where they are being preached (see the explanation below)
You may not make a financial profit from the copying and/or redistribution of these
...read more
| Tagged audio, Catholic Church, communion, eucharist, Holy, latin, mass, sacred, sancto, Sermon, Sermons, species, traditional | 1 Response
By Colleen Hammond, in Catholic Church, Devotions, Meditations, Prayers, Religion | Leave a response Leave a response
Summary of Tomorrow's Meditation
Fourth Tuesday after Pentecost
We will meditate tomorrow upon the lively faith, the profound humility, and the ardent love which we ought to bring to the Holy Sacrifice. We will then make the resolution to bring to the Holy Sacrifice these three virtues, and our spiritual nosegay shall be the words which formerly the deacon pronounced in the assembly of the faithful: "Holy things are for those who art holy."… Read the rest
...read more
Posted in Catholic Church, Devotions, Meditations, Prayers, Religion | Tagged 1865, Day, deovtions, every, fourth, hamon, Holy, mass, Meditations, pentecost, Prayers, sacrifice, spirituality, tuesday, virtue, year | Leave a response
By Colleen Hammond, in Catholic Church, Dressing with Dignity, Family Life, Fashion, Modesty, Parenting, Religion, Saints, Skirts, Sunday | 9 Responses 9 Comments
HT to Michael, and of course to Monsignor Pope for writing this article.
Full Blog here and below:
Last week we had a discussion on the women wearing veils in Church. One of the themes that emerged in the comments was that the discussions about what to wear in Church should be broader than just a veil. More specifically BOTH men and women should consider how they dress when going into God's house. Hence I would like to explore some background issues and  enunciate some principles. You of course will be able to add to them.
1. Scripture – There … Read the rest
...read more
Posted in Catholic Church, Dressing with Dignity, Family Life, Fashion, Modesty, Parenting, Religion, Saints, Skirts, Sunday | Tagged adore, attire, Charles, colleen, dignity, dressing, Fashion, femininity, hammond, Holy, Lord, mass, Modesty, Monsignor, pope, Saints, Sermons, Skirts, Sunday | 9 Responses