Since I viewed the first trailer, I've been saying that the Twilight series was another step in the de-Christianization of our culture…but I had no idea how bad really it was! I'm with this reviewer….I WAS TOO KIND BEFORE!
Tremendous review of the Twilight series by Jasmine Baucham.
Several people that I respected –and some that I don't hold in especially high regard –had loved the books, and told me to take another look, and to keep going: I wasn't being fair. Now, I had read Twilight and New Moon and viewed both of the films before I spoke with such finality, but I worried: had I been too harsh? I worried so much that I picked up Eclipse.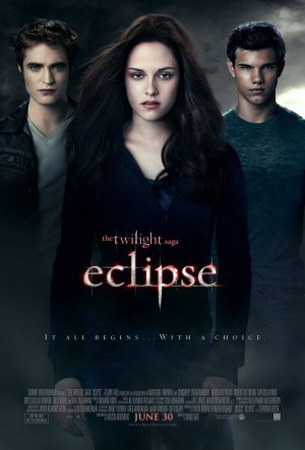 And then my worries ended. Let's face it: I was too kind.
(The story is a) wild love affair between a one-hundred-year-old vampire frozen in time at the age of seventeen and his eighteen-year-old human girlfriend (who, finally, reluctantly, towards the last one hundred pages of the novel, becomes his fiancée, only because her boyfriend refuses to break his vow of abstinence before then). The problems I have with Twilight aren't so much the result of the moral validity of soulless fictional characters (although there are problems to be had with that aspect) as the effect that this story will have on the hearts and minds of the real young women who are eagerly lapping them up.
Just as a crash course to get you up-to-date: in Twilight, girl meets boy -boy loves girl -girl loves boy -boy turns out to be vampire -girl isn't phased. In New Moon, girl begs boy to become vampire -boy refuses and leaves -girl becomes a suicidal recluse -another boy loves girl -this boy's a werewolf -girl still isn't phased -through a series of events, vampire boy comes back -girl and vampire boy promise never to be parted again -werewolf boy is left out in the cold. Eclipse: girl loves vampire boy and wants to be vampire -werewolf loves girl and wants her to stay human -unrelated vampire war brewing -teenage hormones flying.
The Botkin sisters covered this topic excellently in their article, How Twilight is Revamping Romance, when they spoke about emotional pornography. What was slightly uncomfortable to read in Twilight and New Moon was downright embarrassing to peruse in Eclipse. As Bella and Edward shared breathless kiss after breathless kiss, steamy embrace after steamy embrace, promise of eternal affection after promise of eternal affection, I began to wonder if a real, live eighteen-year-old girl might read Eclipse and think that it was safe to spend the night in her boyfriend's bed without her dad's knowledge as long as her boyfriend was committed to abstinence? Would she think it was okay to try to get her boyfriend to break his old-fashioned pledge of abstinence as long as she knew that he was the only one she'd love for all eternity? Would she think it was all right to continuously lie to her parents since she knew what was best for them, because she'd kept a vault of secrets locked away from both of them? Would she be comfortable with her boyfriend taking the engine out of her car to keep her from going somewhere he didn't want her to go -or hiring his sister to put her on lockdown when he's away and can't stalk her for himself? She wouldn't think it was okay to be in love with her best friend as well as her boyfriend, because that's one of the only things Bella Swan seems to regret: stringing Jacob Black (the werewolf) along when she knows all she wants is Edward (even though she later admits -after kissing Jacob -that she loves both men… she just loves Edward more -and Edward's very understanding about that).
If she's a Christian young lady, my hope would be that her answer to each of those questions would be a resounding no! But, if that's the case, I have to wonder why so many Christian young women are entangled in the Twilight franchise? For those who would say that they're strong enough to resist the lure of Bella and Edward's inappropriate fixation, I ask the question: what's the lure, then? If these things don't grab your attention in Twilight, what else does? Why read it, if not for what The New York Times called an "archetypal tumult of star-crossed passions, in which the supernatural element serves as a heady spice." I've learned to translate "Stephenie Meyer is such a good writer" into "I love her characters."
Is it okay for eighteen-year-old girls who think they're in love to try to seduce their boyfriends (those are Edward Cullen's words, not mine, pg. 454)? Twilight is often lauded for it's abstinence push, but Myer makes it clear that Edward's "old-fashioned" ideals are stifling Bella, who tries, on several occasions, to convince him that his notions are out-dated. And though Edward's motives seem to be pure, his reasoning for keeping Bella at bay seems a little skewed: he sites abstinence as a "rule" he was trained to keep, and says he's trying to protect Bella's soul by keeping it intact; surely the way we value purity should be linked to much more than legalism, right? Edward sets the stage for a beautiful proposal from "his time" (he would have courted Bella, asked her father for her hand in marriage, maybe even stolen a kiss or two, but would have saved himself for her on their wedding night), but it's hard to discern whether Edward's vow of abstinence has more to do with morals or nostalgia.
And Bella shows some definite character flaws in her view of marriage: she doesn't want to marry too young because she's afraid of what people might think (eighteen year old girls married in her town are usually "knocked up," in her words, and abstinence is abnormal).
So she has the bravery to become a vampire for eternity… but not to walk down the aisle before giving herself to the man she loves. Because one is morally acceptable to her… and the other is socially repugnant. Am I the only one sensing a disconnect?
One thing Bella will do is sacrifice –she'll give her life for her friends. What makes that prospect a little harrowing for this reader is that Bella has no understanding of eternity. She's willing to give her soul (literally) to the boy she's in love with… and we Christians with our ransomed souls delight in watching her do it.